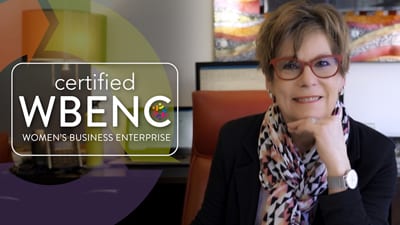 Dobies Health Marketing Achieves WBENC Certification as a Women's Business Enterprise
KANSAS CITY, Mo. — Dobies Health Marketing announced today it received certification as a Women's Business Enterprise (WBE) by the Women's Business Enterprise National Council (WBENC), the nation's largest third-party certifier of businesses owned and operated by women.
To promote innovation through diversity and fuel economic growth, WBENC identifies, certifies and facilitates the development of women-owned businesses. Achieving WBENC certification enables Dobies Health Marketing to expand its reach to corporations and government agencies that seek business relationships with WBEs to fulfill their commitments to supplier diversity.
"As a woman-owned business for almost 30 years, we fully support the WBENC mission. Together with Julie Amor, president and chief strategy officer, we are committed to advocating for companies led by women, while also seeking opportunities whenever possible to recruit and mentor women leaders," said Carol Dobies, the company's founder and chief executive officer. "We also welcome the opportunity to create new partnerships made possible through our certification."
WBENC's certification follows a meticulous process that includes an in-depth review of the financial and operational policies of the business and concludes with a site inspection. The certification process is designed to confirm the business is at least 51 percent owned, operated and controlled by a woman or women.
Dobies founded Dobies Health Marketing (Dobies & Healthcare Associates, Inc.) in 1992. In 2007, she was named one of 25 Women Who Mean Business by the Kansas City Business Journal and honored among 2010 Influential Women by Kansas City Business Magazine. She is also a member of Women Business Leaders of the U.S. Healthcare Industry Foundation. In recent years, the company has been named among Kansas City's top 25 companies under 25 employees, and the firm is certified as a Healthy KC company by the Greater Kansas City Chamber of Commerce and Blue Cross and Blue Shield of Kansas City. To learn more about Dobies Health Marketing, visit dobies.com.
RELATED: Dobies Health Marketing, Clients Bring Home Prestigious Awards for Branding, Advertising
About Dobies Health Marketing
Since 1992, Dobies Health Marketing has offered highly specialized expertise in strategy-first marketing for health companies. The Kansas City-based company serves the marketing and branding needs of the entire health industry, from hospitals, health systems and payers to technology firms, medical device manufacturers, associations and certifying boards. With a promise to always engage strategy first, their mission combines strategic marketing with creative communications to create healthier brands.
About WBENC
Founded in 1997, WBENC is the nation's leader in women's business development and the leading third-party certifier of businesses owned and operated by women, with more than 13,000 certified Women's Business Enterprises, 14 national Regional Partner Organizations, and over 300 Corporate Members. More than 1,000 corporations representing America's most prestigious brands as well as many states, cities and other entities accept WBENC Certification. For more information, visit www.wbenc.org.